Vitatox Brightening Bubble Cleanser to Lighten The Skin
103.5 ر.س
Vitatox Brightening Bubble Cleanser is one of the best types cleansers for the skin that help you get rid of dead skin, lighten the color and fresh the skin
In stock
Description
Vitatox Brightening Bubble Cleanser to Lighten The Skin
Vitatox Brightening Bubble Cleanser is rich in 18 vitamins and Yuja fruits to lighten skin quickly
Blemish Vitatox Brightening Bubble Cleanser is considered the best for lightening and cleaning the skin, enriched with Korean yoga fruit extract, green mandarin, and 18 kinds of skin-nourishing vitamins. It restores the vitality of the skin, purifies it and lightens dark spots in it, deeply cleanses the skin, and removes impurities and dead skin cells.
Efficacy of Blemish Vita Cleanser:
Exfoliating and moisturizing the skin
This lotion contains konjac granules to gently exfoliate the skin, clean the skin and get rid of dead skin
It hydrates the skin and leaves it with a gorgeous glow all day long.
Skin whitening
It is very effective in lightening the skin tone and unifying its color thanks to the power of citrus fruits and the combination of concentrated vitamins that work to regulate the secretion of collagen in the skin and treat areas affected by dark spots and stubborn pigmentation.
Clean pores and reduce wrinkles
The high concentration of cleansing ingredients and the power of citrus effectively cleanses the pores in depth and reduces their size for a smaller appearance, thus helping to tighten the skin and reduce fine lines and wrinkles.
Natural Ingredients of Blemish Vita Cleanser :
Korean yoga fruit extract
A high concentration of yoga extract is effective in lightening, nourishing, and moisturizing the skin. The dense bubbles penetrate deep into the pores and leave the skin without feeling irritation. It contributes to cleaning the skin, treating pigmentation, and lightening the skin tone.
A highly effective ingredient that regulates the secretion of melanin pigment and gives the skin a uniform color by treating areas affected by pigmentation and dark spots.
Green Mandarin Fruit Extract
Double efficacy to deeply nourish the skin to give the skin a healthy glow and texture.
For the treatment of dark spots and traces of pimples and lighten dull skin tone and dark brown spots.
The power of vitamins and a high concentration of vitamin C are designed to improve skin tone and help fade freckles, melasma, and blemishes to restore the vitality of dull skin and improve skin texture to protect against wrinkles and fine lines.
It cleans the pores of the skin completely, and its use for a long time can make the skin smoother and brighter.
Benefits of Blemish Vita Tox Whitening Cleanser

Cleaner Features
Skin brightener.
Get rid of dead skin.
Impurities removal.
Removes dead skin cells and impurities from the surface of the skin.
It brightens and deeply moisturizes the skin.
Contains 18 kinds of vitamins that nourish the skin.
Gives the skin a healthy and radiant look.
Suitable for all skin types.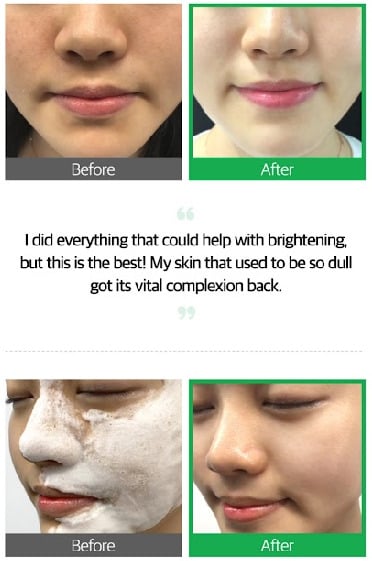 How to use:
Apply an appropriate amount to dry skin, and after bubbles appear, leave it for 3-5 minutes, then massage it gently using a small amount of water, then wash it off.
Product Specifications:
Product Category: Skin Care Cleanser
Size: 130 ml
Manufacturing country: South Korea
Barcode: 8809647391005
ingredients:
Water, Citrus Junos Fruit Extract, Citrus Reticulata (Tangerine) Fruit Extract, Disodium Cocoamphocetate, Glycerin, Potassium Cocoyl Glycinate, Coco-betaine, Methyl Perfluorobutyl Ether, Salix Alba (Willow) Bark Extract, Citrus Limon Fruit Extract, Hippophae Fruit Extract, no Bacillus/Folic Acid/Soybean Ferment Extract (500 ppb), Sodium Hyaluronate, Butylene Glycol,Mannitol, Sucrose, Panthenol (1,000 ppm), Ascorbyl Glucoside(10 ppm), Biotin(10 ppm), Niacinamide(10 ppm), Ascorbic Acid (20 ppm), Tocopheryl Acetate (100 ppm), Tocopherol (100 ppm), Glutathione (1,000 ppb), Ascorbyl Tetraisopalmitate (10 ppm), Cynocobalamin (100 ppm), Menadione (100 ppb), Linolenic Acid (0.1 ppb), Pyridoxine Hci(10 ppb), Sodium Ascorbyl Phosphate(2 ppb), Magnesium Ascorbyl Phosphate(2 ppb), Magnesium Ascorbyl Phosphate(2 Ppb), Tetrahexyldecyl Ascorbate(2 ppb), Sodium Riboflavin Phosphate(2 ppb), Capryly Citricl Gb Acid, Zea Mays (Corn) Starch, Mannan, Microcrystalline Cellulose, 1,2-Hexanediol , Benzyl Glycon, Ethylhexylglycerin, Raspberry Ketone, Disodium EDTA, CI 19140, CI 15985, Iron Oxides (CI 77492), Titanium Dioxide (CI 77891), Fragrance, Limonene.