Super Matcha Pore Care Kit
128.0 ر.س
Super Matcha Pore Care Kit is a complete Korean care routine to provide complete pore problems, consisting of a cleansing gel, toner, serum, and mud mask
In stock
Description
Super Matcha Pore Care Kit
Super Matcha Pore Care Kit The exclusive skin care set
You are looking for soft and smooth skin without large pores and accumulated oils!, Suffering from obvious and prominent blackheads! Super Matcha set for the skin pore care routine, black and white heads, large pores, and getting rid of dirt, make-up, and sebum deposits in them. Enhanced with the power of Korean matcha water and powder, natural exfoliating acids, mineral fizzy water, and natural skin conditioning and hydrating ingredients. The group also helps regulate oily secretions in the skin, tighten large pores, soothe, moisturize, and refresh the skin.
Super Matcha Group Event:
Super Matcha Cleanser 42 ml:
Made with 62% Matcha Water, Purifying Bubble Water, Natural Exfoliating Acids, and Cognac Pills. It deeply and gently cleanses the pores, ridding them of excess sebum deposits and dead skin cells.
Super Matcha Clay Mask 42gm :
Made with matcha water, cleansing mud, natural exfoliating acids, and sparkling water. It works to provide integrated care for the pores of the skin, leaving it clean, tight, and refreshed.
Super Matcha Toner 30ml:
Made with 83% matcha water, sebum-regulating compounds, natural exfoliating acids, and sparkling water. It effectively removes the sebum deposited in the pores and balances the excess sebum secretions in the skin.
Matcha Super Serum 10ml:
Made with 93% matcha water, sebum-regulating compounds, natural exfoliating acids, and natural hydrating compounds. Provides high soothing and moisturizing to the skin, as well as treat multiple pore problems. It leaves the skin soft and with tight pores.
Matcha natural ingredients:
Korean matcha
Prepared after grinding high-quality green tea leaves grown in Boseong in South Korea, it provides unique and refreshing skin care as it helps tighten large pores and deeply cleanses.
Exfoliating Acid (Beta Hydroxy Acid)
Naturally extracted from the roots of the white willow plant, it gently cleanses pores and removes dead skin cells.
Benefits of Matcha Ultra Pore Care Set: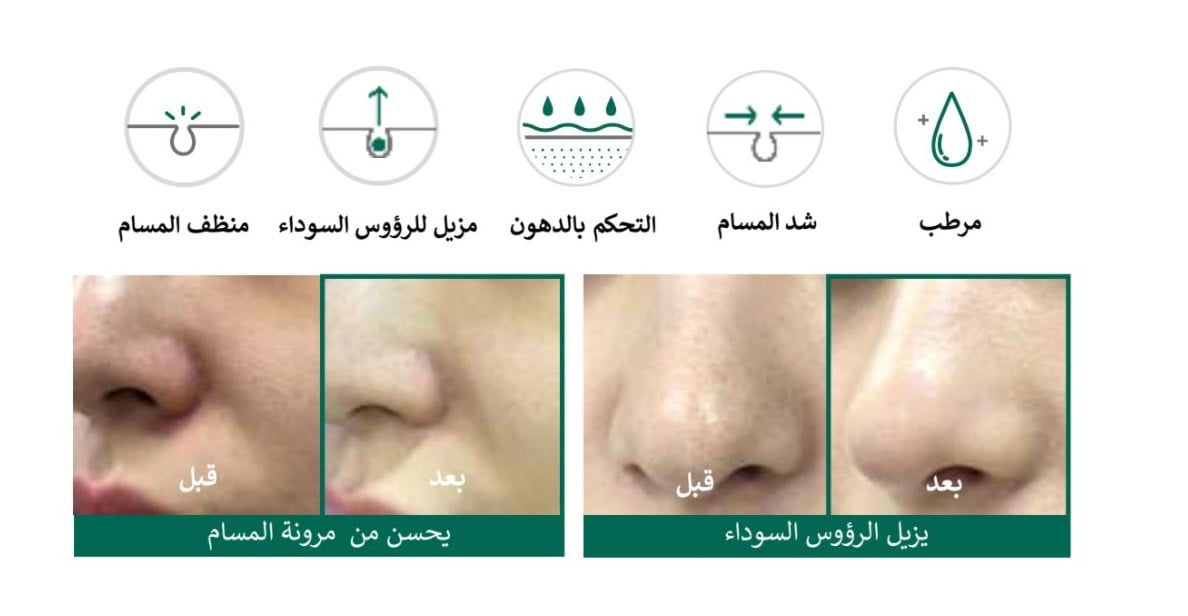 Matcha group features:
Natural and friendly ingredients for all skin types.
Contains trial sizes of Korean Super Matcha products.
Provides a complete care routine for pore problems.
Removes dead skin cells, dirt, and make-up residue.
Regulates sebum secretions in the skin and tightens large pores.
Removes black and white heads and protects the skin from inflamed pimples.
It contains Korean botanical ingredients that moisturize the skin and give it a refreshing feeling.
How to use the Kit for your skincare routine:
Gel cleanser :
Apply an appropriate amount to the skin and massage it gently until foam forms, then wash it off using lukewarm water.
mud mask:
It is recommended to use it 1-2 twice a week, on clean and dry skin, distribute an appropriate amount of the mask on the face skin and leave it for 10-20 minutes until it dries completely, then washes it off using lukewarm water and rub it in a circular motion.
Toner:
After cleaning the skin, shake the bottle well until the powder is completely mixed, then use a cotton pad and distribute the toner all over the skin.
Serum:
After using the toner, apply an appropriate amount of serum to the skin and then massage it gently until it is completely absorbed.
product specification:
Categories: Matcha, Pore Care, Collections
Size: Cleansing Gel 42ml, Clay Mask 42g, Toner 30ml, Serum 10ml
Format: Group
Package: product set box
Country of Manufacture: South Korea
Barcode: 8809647391326